Promise is a recognized company providing high quality storage solutions for enterprises and individuals. Let's take a look at some of the incredible products they offer!
Pegasus3 Series
This series delivers astounding speed and performance with its Thunderbolt 3 technology. If you're a creative individual who does HD and 4K video editing, then this is the product to get! It is optimized to give you the best performance possible. Protect all your content with the advanced RAID protection to ensure your work is stored securely.
With dual Thunderbolt™3 ports, expanding devices or adding dual 5K displays is super convenient! Select from a variety of drive configurations - 4, 6, 8 from 12TB to 48TB. If you find that you need more speed then adjust your RAID settings. The Pegasus3 Series supports RAID 0, 1, 5, 6, 10 and JBOD. Another nice feature is that it has a connectivity speed of 40 Gb/s, its Thunderbolt 3 perfectly supports bandwidth-hogging, high-resolution workflows. With its portability and compact build, you can bring this almost anywhere! Check it out here.
 Pegasus32 Series
Calling all Creative Professionals! This 32 series comes with a new Thunderbolt 3 and USB 3.2 Gen 2 Hardware RAID storage! Pegasus32 is based on Intel's latest Thunderbolt chip - TitanRidge. It has great new features to help expand your connectivity! Connect to either your Thunderbolt 3 enabled host at 40Gbps or USB 3.2 Gen 2 enabled host at 10Gps. The Thunderbolt 3 cable is included.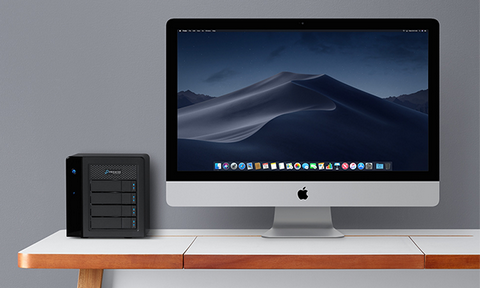 The Pegasus32 also supports 8K monitor via the full size 4-lane DP 1.4 port! With the Thunderbolt 3, you can power your hosts up to 85W. And don't worry about not having enough storage space, we have the Pegasus32 R8 with up to 96TB capacity! It is also compatible with Apple macOS Big Sur and the new M1 chip powered Mac. Featuring dual thunderbolt 3 ports for daisy chain, you'll be able to connect it to multiple displays. Get quiet but high quality and reliable performance with this beast of a storage machine. It also supports Kensington Lock if you need that extra security!
Pegasus R4i
This is custom designed for Mac Pro & macOS Catalina with PROMISE engineering, quality and support. Its chassis design is sleek yet rugged and fits nicely into Mac Pro's MPX slots. Instantly plug and play with the built in driver in macOS! You're also able to swap any four of its modules with 8TB 7200rpm SATA HDDS pre-formatted and pre-installed. Enjoy its top notch Pegasus hardware RAID an optimal combination of capacity, redundancy and performance with up to 680 MB/s in RAID5. Such a powerful machine requires some proper handling as well! The Pegasus R4i comes with a Promise Pegasus Utility for simple-to-use powerful storage management and monitoring. It is also compatible with Apple macOS Big Sur and the new M1 chip powered Mac. 
Check it out here.
Pegasus J2i
The J2i is built exclusively for the Mac Pro as well. It includes a 3.5-inch 8TB 7200rpm SATA HDD pre-installed & pre-formatted. If you want to add another 3.5" SATA HDD, it actually has an empty bay and kit! It is compatible with appleRAID and includes a dual SATA connector.
Buy it here.
SANLINK 3 F2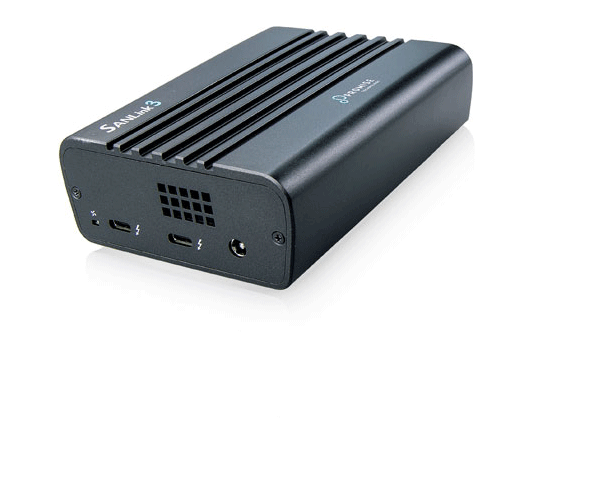 Having Thunderbolt 3 technology allows the SANLink3 F2 to handle speeds which are double that of previous generation Thunderbolt 2 16Gb FC adapters. Yes, the Thunderbolt 3 cable (USB Type-C) is included! Just plug your SANLink3 into a Thunderbolt 3 port and your Fibre Channel network. There are no unnecessary drivers or software to install, so don't fret. The SANLink3 F2 has such a compact design, bring it with you everywhere you go. It has small desktop footprint and runs quietly! Maximum performance and connectivity is guaranteed with the SANLink3 FC. Connect up to up 6 daisy chained devices - high resolution 5K displays, multiple Pegasus3 RAID systems, and fast dual port 16Gb Fibre Channel connectivity all from a single Thunderbolt™ 3 port!
Check it out here.
 SANLINK 3 N1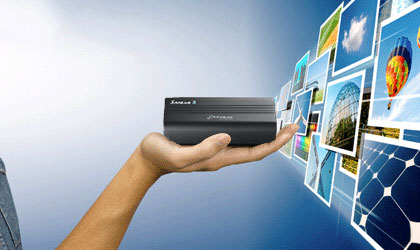 The SANLink3 N1 NBase-T allows connection at 1, 2.5 or 5Gbps over most existing Ethernet wiring or up to 10Gbps on the latest high-speed networks. One great thing about this product is that it does not require a separate power supply! It is a compact device that is bus-powered and includes a Thunderbolt 3 cable. You're able to stay on the go without compromising connection speeds. Get great performance even with multiple daisy-chain Thunderbolt 3 devices with High resolution displays, Pegasus3 RAID Storage and connection to 10G Ethernet with the SANLINK3 N1.
Get your work done fast and efficiently with Promise Storage!