If you're a traditional artist and prefer to draw on paper, the Wacom Intuos Pro Medium, Paper Edition is perfect for you. You'll be able to easily import your paper drawings to your computer where you can edit your sketches digitally with your favourite software.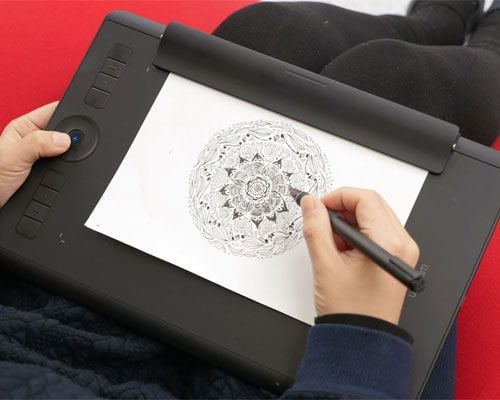 This drawing tablet is super sleek, slim and compact. It is made out of aluminium which means it has a very sturdy build!
This Wacom Intuos Pro in particular is the Medium sized one, it measures 13.2 by 8.5 by 0.3 inches. It is accompanied by Express keys, Customizable buttons and a Touch ring. Let's say that you wanna access your most used keyboard shortcuts. You can do that easily with the buttons on your Wacom. You just have to assign the function you want to each button and you're good to go! 
The Paper Edition of this tablet comes with both the Wacom Pro Pen 2 & Finetip Pen. If you're doing a lot of digital drawing then the Finetip Pen would be best suited for you. The Wacom Pro Pen 2 actually uses real ink cartridges for drawing on paper. A nice addition to these pens is that both have 8,192 pressure levels and are able to recognise when you are holding the pen at an angle. You also don't have to worry about batteries because these pens don't require any! They virtually have no lag and provide precise pen performance. 
If you're interested, check it out here!